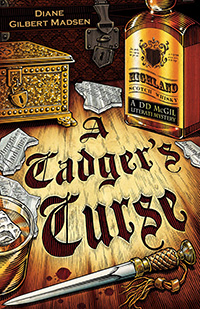 A CADGER'S CURSE
Amazon
Who'd have guessed that running employee background checks at the HI-Data Corporation would make DD McGil the target of a ruthless killer?
For DD, a thirty-something English professor turned investigator, the routine job should have been a welcome distraction from her fiancé's death and her eccentric Aunt Elizabeth's quest to authenticate an unlikely literary treasure―a Robert Burns text worth millions if proven genuine.
Relying on her own moxie (bolstered by the occasional shot of Glenlivet), her sexy lover, and the fact-finding acumen of her antiquarian bookseller friend, DD races to find out who's behind the high-tech treachery at HI-Data before it's too late.
"Madsen's promising debut, the first in a new cozy series set in Chicago, introduces DD McGil, a 38-year-old freelance insurance investigator and former English professor who's a whiz at breaking and entering. Well-drawn characters and a suspenseful plot will leave readers looking forward to the next installment." –Publishers Weekly
"Madsen's debut introduces enough mystery, enjoyable characters and literary tidbits (DD's a former English prof) to attract a wide audience for her planned series."—Kirkus Reviews
"Corporate treachery, a tinge of romance, dead bodies and an eccentric Scottish aunt weave a murderous plot in A Cadger's Curse. A most enjoyable read. The author created a solid character in DD McGil, a retired English professor turned insurance investigator, who uses statistical data to back up DD's crime-solving abilities. Aunt Elizabeth is a Scottish hoot who puts family loyalty to the test. I look forward to the next in the D.D. McGil Literari Mystery Series." – Pop Syndicate
"Diane Madsen's A Cadger's Curse is the first in a new series featuring DD McGil, a refugee from academia now employed as a freelance insurance investigator in Chicago. Madsen has created an engaging heroine. Literature lovers will look forward to future chapters in DD's life." Mystery Scene Magazine, Holiday Issue, #112