Celebrate the 50th anniversary of Friends of the Arthur Conan Doyle Collection Toronto Li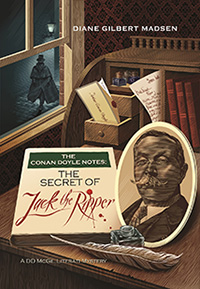 brary and the Bootmakers of Toronto Sherlockian Association at the Jubilee 221B in Toronto, Ontario, Canada, this September 23 thru 25th.  It will be worth attending! My book on Conan Doyle and the Ripper will be given s prizes thanks to MX Publishing Steve Emecz.    Attention Bootmakers Membership! (mailchi.mp)
We are pleased to announce some highly valued conference prizes. Included are: "The Collected Papers of Sherlock Holmes" (5 Volume Hardcover set) by master pastiche writer and editor, David Marcum; copies of "The Conan Doyle Notes: The Secret of Jack the Ripper" (a Literati Mystery) by highly acclaimed author Diane Gilbert Madsen, of "The World's Who's Who of Women;" and "Sherlockian Musings" by Sheldon Goldfarb, celebrated editor and award winning author.
Meet Enthusiasts from Around the World
You will also have have a rare chance to hear and meet esteemed Sherlockian and Doylean scholars from around the world. Colleagues from the United States, Great Britain, France, Japan, India and across Canada are represented.
Amongst them is the eminent scholar, Douglas Kerr, whose publication history is extremely prolific, and includes around 110 papers, articles and critiques – among them 7 edited and scholarly volumes, and five monographs. Douglas' most notable work is "Conan Doyle: Writing, Profession and Practice." He will deliver the 2022 Cameron Hollyer Memorial Lecture of The Friends of the Arthur Conan Doyle Collection.
Canadian born actor R.H. Thomson, whose brilliant career spans five decades of radio, film, stage and television performances, will be attending and performing at the Conference.
Nicholas Meyer, the author who single-handedly revitalized interest in Sherlock Holmes with his first best-selling pastiche, "The Seven-Per-Cent Solution," will deliver the keynote speech at the Banquet. His immensely popular Star Trek films and adaptation and direction of the film "Time After Time" must be noted as well. Nicholas will be happy to sign copies of his most recent pastiche, "The Return of the Pharaoh."
So, if you would like to be the winner who gets rewarded with great prizes and being with fascinating people, don't be disappointed and register for the Jubilee@221B Conference today! For the most enjoyable experience, attend both the Conference and Banquet.